For health insurance claims resolution, SMALL can be BIG. Let us show you how SMALL balance accounts receivable resolution can have a BIG impact on your bottom line.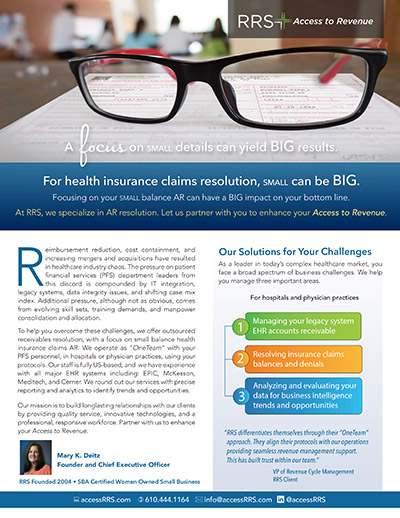 To help you overcome the challenges of health care industry evolution, we offer outsourced receivables resolution, with a focus on small balance health insurance claims A/R. We operate as "OneTeam" with your PFS personnel, in hospitals or physician practices, using your protocols. Our staff is entirely U.S.-based, and we have experience with all leading EHR systems including EPIC, McKesson, Meditech, and Cerner. We round out our services with accurate reporting and analytics to identify trends and opportunities.

We strive to build longlasting relationships with our clients by providing quality service, innovative technologies, and a professional, responsive workforce. Download our solutions overview.