Small Balance A/R Can Be a BIG Headache For Your PFS Department. We Can Ease Your Pain.
Healthcare organizations of all sizes — both facilities and practices — find themselves in a particularly challenging spot when it comes to reimbursement. The healthcare industry landscape continues to shift and change. Your patient financial services (PFS) department may face challenges to keep up with daily revenue cycle functions. Additionally, major struggle surfaces when it comes to small balance health insurance claims recovery and denials resolution.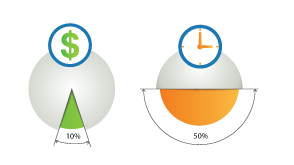 You're not alone. On average, low balance accounts make up 10% of a healthcare provider's outstanding A/R and demand more than half of a PFS department's in-house capacity.
We're here to help. We overcome this burden by providing in-office support or outsourced services for recovering or resolving low balance health insurance claims. Since 2004, our track record — exemplified in one of our success stories — speaks for itself with success in reducing A/R days and increasing revenue.
Give us 20 minutes, and find out how a focus on small balance health insurance claims can enhance your A/R. Let's start a conversation; connect with us now.